Ottawa's Best Farmers' Markets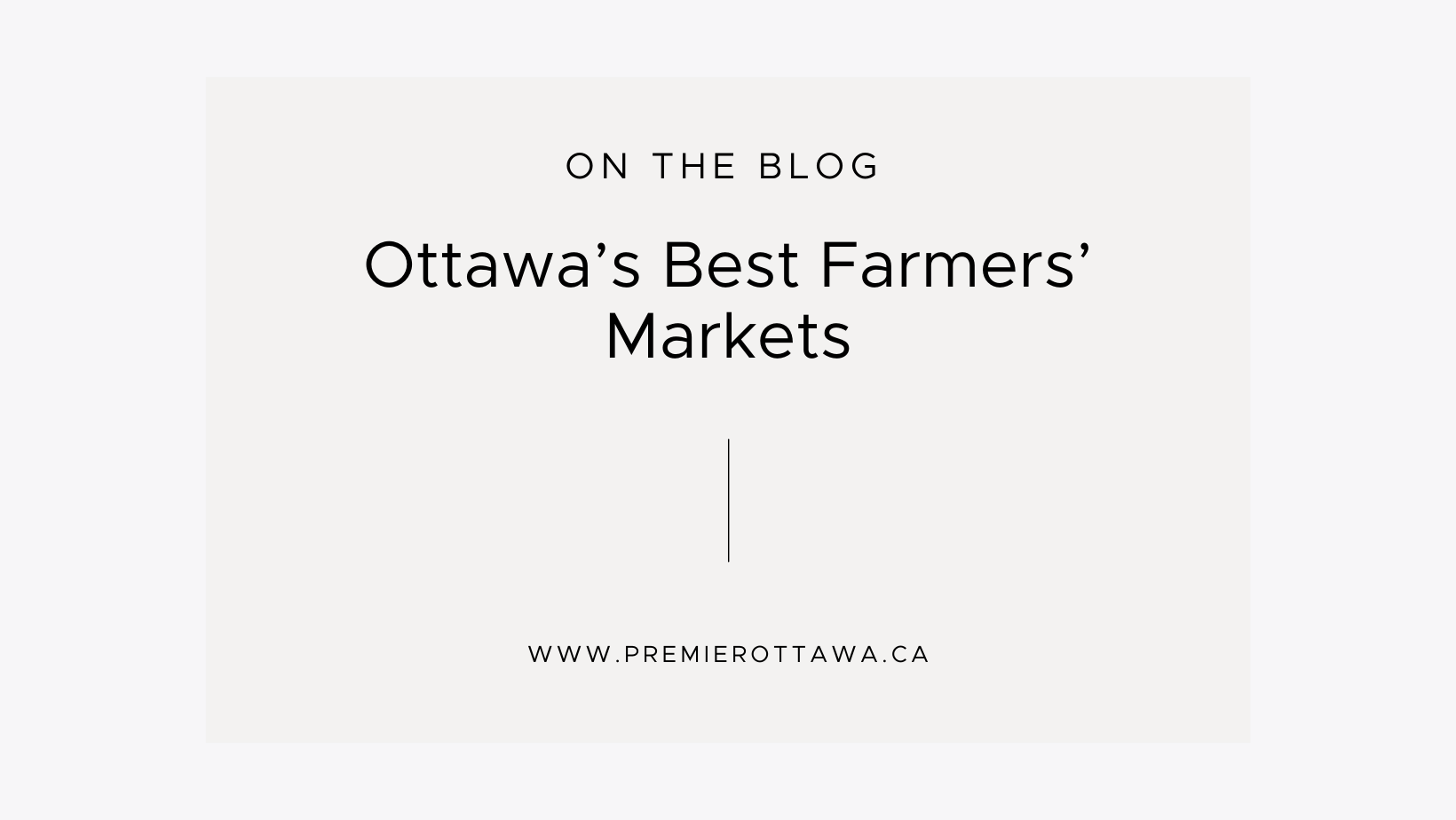 One of the great things about living in a city like Ottawa that has such a strong agricultural presence, is the awesome selection of farmers' markets. No matter what area of the city you live in, you can find plants, fresh produce and homemade goods close to home. If you love to spend weekends perusing the best that our local farmers, foodies and makers have to offer, you're not alone. We've done the legwork and prepared a list of Ottawa's Best Farmers' markets so all you have to do is choose which one to hit up next! 
Lansdowne Market (Lansdowne Park)
The Ottawa Farmers' Market at Lansdowne is the city's largest year-round market. With over 50+ artisans and farmers, you can find fresh produce, baked goods, prepared food, personal care products, and crafts all from within a 100km distance from Ottawa. The market operates outside from May to October and then moves indoors to the historic Aberdeen Pavilion from November through April. In December, it becomes one of the city's most popular holiday destinations on Saturday's and Sunday's. 
Season:  Year Round
Hours: Summer- Sundays, 9:00am – 3:00pm; Winter-Sundays 10:00am-3pm;
December- Sat & Sun, 9:00am – 3:00pm
Website: https://ottawafarmersmarket.ca/lansdowne-market/ 
Parkdale Market (366 Parkdale Ave.)
The Parkdale Market has been a staple of Ottawa's west end since 1924! Located at the north-west corner of Wellington Street and Parkdale Avenue the market offers exceptional seasonal plants and produce from local vendors. In the spring you can stock your gardens with plants, throughout the summer and into the fall you'll find fresh produce. You can also pick up pumpkins for Halloween and over the holidays the market is the spot for Christmas Trees!
Season: June-December
Hours: Daily, 9am-5pm
Website: https://ottawamarkets.ca/parkdale-market 
Westboro Market (Byron Linear Park)
What could be better than a walk through the park on Saturday morning? The Westboro Market is located along a pathway between Golden Avenue and Byron Avenue in Byron Linear Park. This Ottawa farmers' market is a charming spot to browse for plants, fresh produce, baked goods and prepared food.
Season: May 21 – October 29, 2022
Hours: Saturdays, 9:00am – 3:00pm
Website: https://ottawafarmersmarket.ca/westboro-market/ 
ByWard Market (55 ByWard Market Square)
Ottawa's oldest farmers' market, the ByWard Market has been home to outdoor vending for almost 200 years! The outdoor market runs along both the North and South side of York Street from May to October as well as some holidays. It's a popular spot for both locals and tourists to spend Saturday mornings shopping for fresh farm goods. Inside the historic ByWard Market building, the market runs year-round and offers a local butcher, unique artisans, crafts and fashions. Over the holidays, the area transforms to stock Christmas trees, decorations and plenty of holiday cheer.
Outdoor Season: May 21 – October 29, 2022
Hours: Saturdays, 9:00am – 3:00pm
Website: https://ottawamarkets.ca/byward-market 
Orléans Market (Ray Friel Recreation Complex parking lot)
The Orleans farmers' market has a little bit of something for everyone. You'll find everything from fresh honey and maple syrup, to baked goods and prepared foods, and of course, seasonal fresh produce. 
Season: May 19 – October 27, 2022
Hours: Thursdays, 11:00am – 4:00pm
Website: https://ottawafarmersmarket.ca/orleans-market/ 
Barrhaven Farmers' Market (670 Cedarview Rd)
The Barrhaven Farmers' Market is situated on the grounds of The Log Farm, between Hunt Club and Fallowfield Rd. The market has been operating since 2016 and now boasts more than 50 vendors. You can also visit the Log Farm Market Shop, which sells farm-to-table products such as maple syrup, eggs, beef, pork and chicken, as well as baked goods, sauces, preserves, and unique gifts. The Log Farm Christmas Market runs the last two Saturdays in November.
Season: May 21 – October 8, 2022
Hours: Saturdays, 9:00am – 2:00pm
Website: https://barrhavenfarmersmarket.com/
Main St. Farmers' Market (210 Main Street)
The Main St. Farmers' Market has been bringing wares from farmers and local producers to the Old Ottawa East community for over a decade.
Season: Saturdays, May 14 – October 29, 2022
Website: http://mainfarmersmarket.org/ 
Ottawa's Best Rural Farmers' Markets
There are also many wonderful farmers' markets in Ottawa's rural communities. Take a trip out to Almonte, Carleton Place, Carp, Cumberland, Kanata, Kemptville, Metcalfe, North Gower, Perth, Richmond or Stittsville to check out what their markets have to offer. You can find a full list of hours and links here: https://ottawastart.com/a-big-list-of-ottawa-farmers-markets/ 
We know there's more to being a great local real estate agent than just selling houses. It's about knowing your city and its communities and offering the best advice to our clients. Contact us today to get on our mailing list and get amazing local content like Ottawa's Best Farmers' Markets delivered right to your door.