Ottawa's Best Neighbourhoods: Carp, ON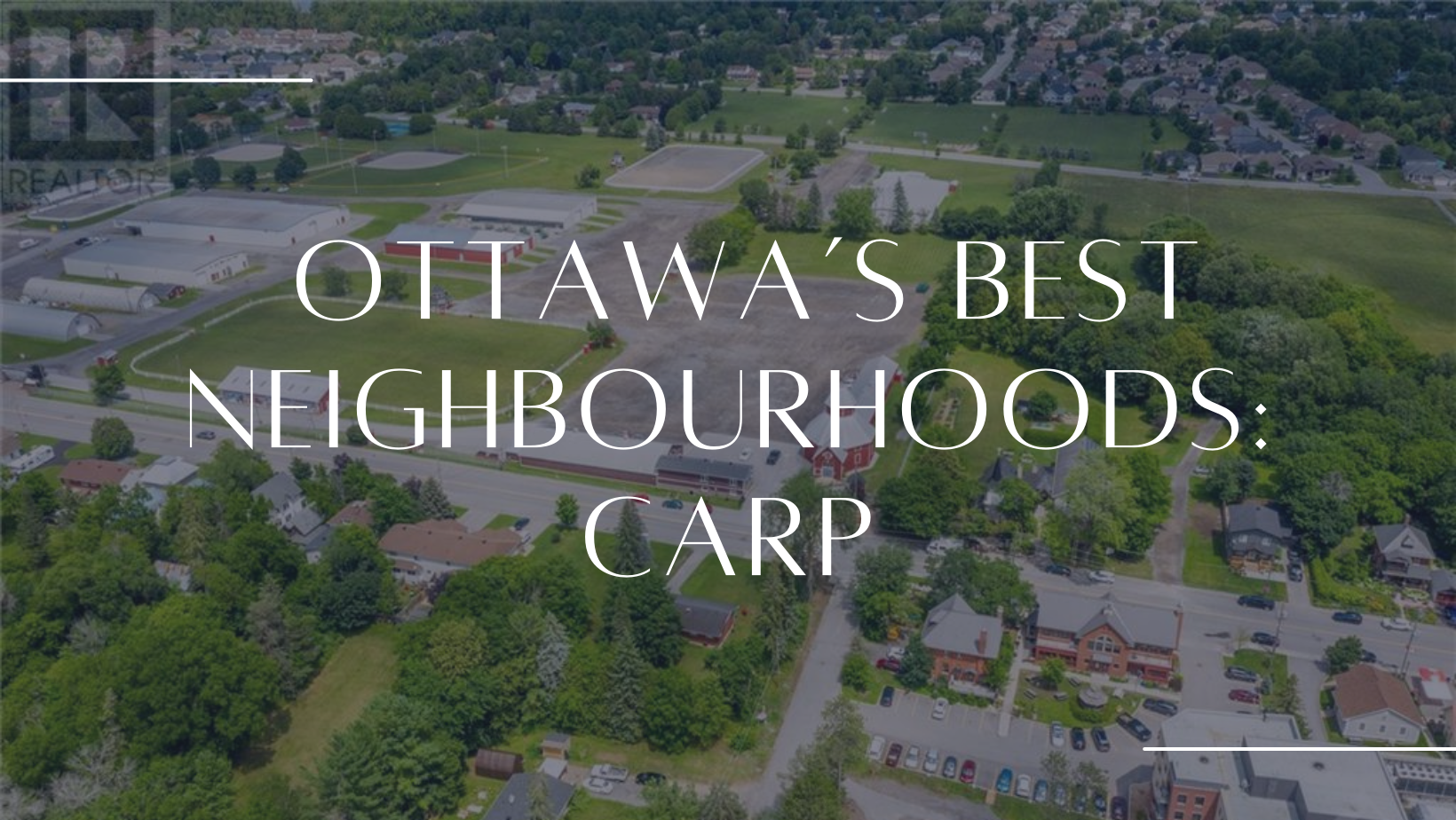 When it comes to charming rural communities with an easy commute to the city, the Village of Carp, ON is hard to beat. With a fabulous farmer's market, delicious local dining and unique shops, Carp offers the quintessential small-town lifestyle. It's no surprise this historic, family-friendly village is fast becoming one of Ottawa's most coveted communities. Check out our highlights below to learn why we think Carp is one of Ottawa's best neighbourhoods. 
A Picturesque Setting
Located on the western edge of Ottawa's city limits, the Village of Carp sits on Carp Ridge, a small range of rocky hills running through the Carp River Valley. The location offers picturesque views of the Carp River, the Valley, and the surrounding countryside. The town is flanked by some of the best farmland in the region on one side with diverse forests on the other. 
Live in the Country, Work in the City
Located just 30 minutes outside of downtown Ottawa and only 10 minutes from Kanata's business sector, Carp is a great choice for those who want to retreat to a quiet community at the end of the workday. 
A Family-Friendly Village 
The town is safe and quiet with wide, tree-lined streets and plenty of parks and space to play. The Carp fairgrounds features a popular splash pad and the Carp Co-operative Nursery School is right in town. There's also a public library offering books, movies, internet access and a lovely Reading Garden! 
Great Places to Eat in Carp, ON
It's not often a small town has so many great places to eat! Carp is known for its fabulous dining with local treasures that draw visitors from all around the area. Stop by Alice's Village Café for amazing meals and live entertainment or visit The Swan for delicious dining and awe-inspiring cakes and pastries. The town is also home to the popular Ridge Rock Brewing Co. where you can enjoy great food and fine local craft brews. And no visit would be complete without a trip to the Carp Custom Creamery for their famous homemade ice cream and sweet treats. 
A Community with History
The sign welcoming you to town reads "This Way to the Historic Village of Carp" which accurately summarizes the feel of the community. Some local businesses such as Ottawa Valley Grain Products have been in operation for almost 100 years!  
The town has been a major center for agricultural activities since the 1800s. The Exhibit Hall is one of the few remaining octagonal-frame fairground buildings in Ontario. It continues to operate as the main hall for the annual Carp Fair held every September since 1880! It also hosts the extremely popular Carp Farmers' Market which is open Saturdays from May to October.
Enjoy the Outdoors in Carp, ON
The Carp Hills Municipal Nature Reserve is part of the same Canadian Shield system as Gatineau Park and Algonquin Park. The 1000-acre Reserve is home to diverse plant and wildlife and is a popular spot for hiking, mountain biking, snowmobiling, snowshoeing, and cross-country skiing.
Carp's Most Popular Attractions
Aside from the Carp Fair and Farmers Market, the town is also home to the Diefenbunker, Canada's historic Cold War museum. The massive four-storey underground bunker was built to shelter key members of government in the event of a nuclear attack. It remained active as a Canadian Forces Station until 1994. Today, it operates as a charitable museum with award-winning tours and programs.
Schools in Carp, ON
Children can attend Huntley Centennial P.S. which offers English and French immersion programs for students from JK to grade 8. Students have the opportunity to participate in a wide range of extracurricular activities including sports, dance, drama and music. After grade 8, students move on to nearby West Carleton S.S. Or, they also have the opportunity to apply to specialized programs at Canterbury H.S., Bell H.S. and Colonel By S.S.
Houses for Sale in Carp
Approximately 75% of the homes in Carp are single-family homes, with townhouses and semi-detached homes making up the rest of the village. The area features predominantly three or four or bedroom homes with limited rental properties. Most homes in town are fairly new as the area experienced a significant building boom in the early 2000s. For those interested in pursuing a more eco-friendly way of life, there's also a new tiny home development. 
Carp is a village rich in heritage and unique rural character. It's a great place to live with accessible services, charming local businesses and an abundance of recreation.
Contact us or click the following link to get set up with a custom search to help you find your dream home in this highly sought-after community.