Seven Home Renovations that Add the Most Value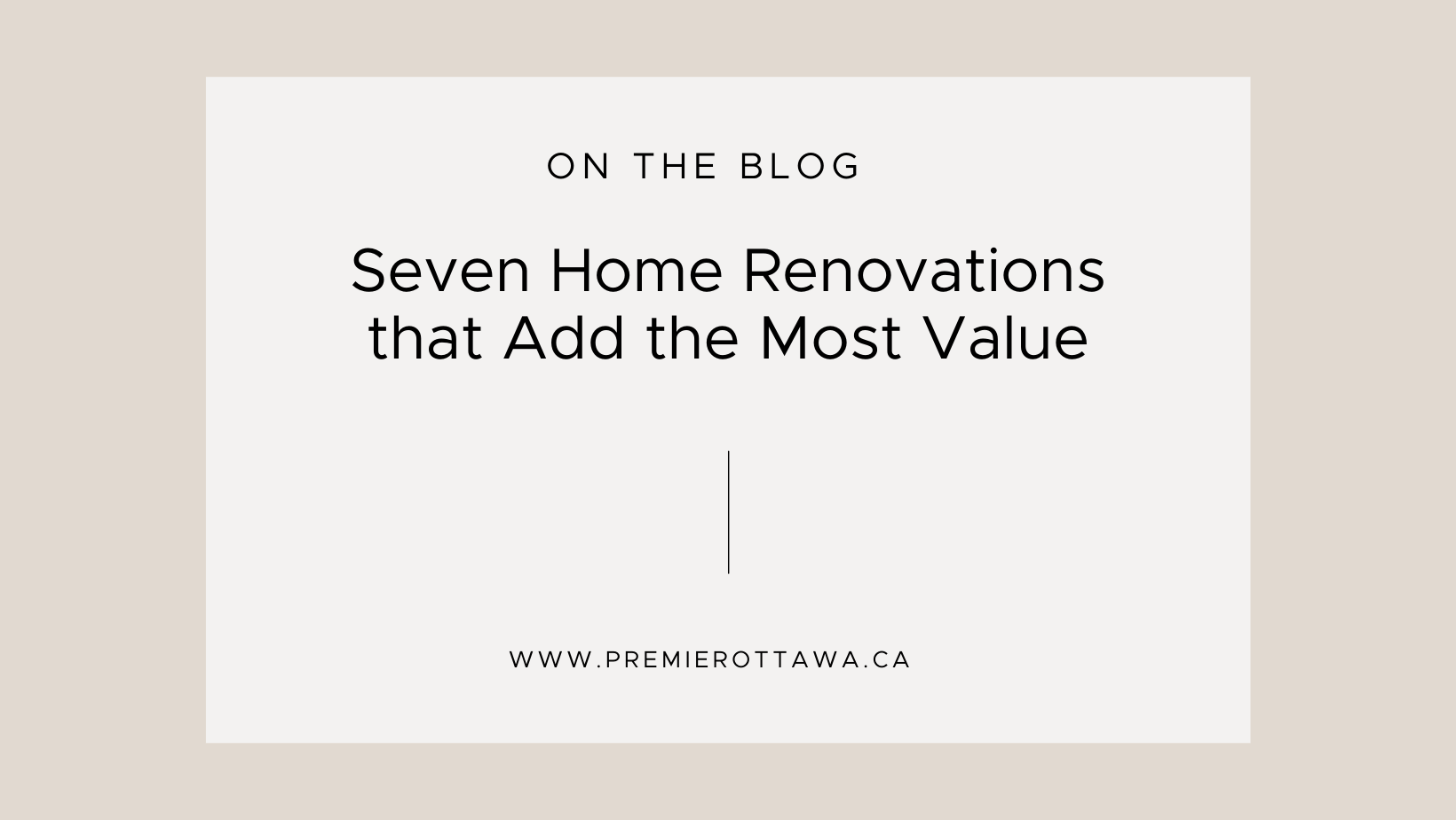 When it comes to home renovations, the possibilities are endless. But not all renos are created equal. Some projects cost a lot but won't get you a comparable return on your investment when it comes time to sell. And some upgrades can even make your home less desirable to potential buyers. So, before you decide to invest in your home renovation project, check out our list of the top seven renovations that will add value to your home. 
1. Add Square Footage to Increase Value
If your family has outgrown your current home and you're wondering whether you should move or make your home bigger, you may want to consider renovating. House prices are based on comparably sized homes in the neighbourhood, so increasing the square footage and number of rooms in your home is a sure-fire way to add value. 
But expanding your home is a big undertaking and an even bigger expense. So, this type of upgrade is generally only worthwhile if you plan to live in your home for a number of years. But extra space never goes out of style and will add value to your home for its lifetime. In comparison, many cosmetic upgrades will go out of date again in ten or twenty years.
2. Renovate the Kitchen 
The kitchen is often the heart of the home. It's where families gather and so many different activities happen. As a result, outdated kitchens are a huge turnoff for most potential buyers. And kitchens tend to show their age before other rooms in the home so it's important to bring them up to date if you want your home to be competitive. Keep in mind that cosmetic updates such as new cupboard doors, backsplash and countertops will give you a slightly better return on your investment than a complete remodel. 
3. Add a Bathroom 
Adding a bathroom doesn't usually require adding square footage. It just means you have to make clever use of the space you have. Whether you're adding an ensuite, main floor powder room, or full bath in the basement, an extra bathroom is a bonus for potential buyers. And a home with three bathrooms will sell for more than the same size home with only two bathrooms so it's also a renovation that adds value for the seller. 
4. Update the Bathrooms
If you already have an adequate number of bathrooms in your home, giving your existing bathrooms a makeover is a worthwhile renovation. Beautiful bathrooms with a spa-like feel are on many buyers' wish lists. Small updates such as a new mirror, lighting, hardware and faucets can make a bathroom look much more modern and require a minimal investment. But if the tub, sink and toilet are worn or dated, it's worth it to replace those as well.  
5. Replace Windows and Improve Efficiency
If the windows on your home are old or showing any signs of damage or disrepair, replacing them can definitely add value to your home. You may not get your initial investment back in resale value, but new energy-efficient windows can reduce your heating and cooling bills significantly. Over time those savings will add up and make the investment more than worthwhile. And windows that need to be replaced will result in buyers looking for a discount on the asking price. 
6. Finish the Basement to Add Value to Your Home
While finishing the basement doesn't physically make your home bigger, it does greatly increase the amount of available living space. And buyers will almost always choose a finished basement over a similar home with an unfinished basement. If you really want to add value, create an additional dwelling unit that includes a bathroom, bedroom and small kitchen and you'll have the option for bonus rental income.
7. Upgrade Your Exterior to Increase Curb Appeal 
If your home doesn't look good from the outside, it's hard to get people to see the inside, no matter how amazing it might be. Curb appeal is a major factor in drawing potential buyers to your property so it's important to maintain the outside of your home as well as the inside. Upgrades such as refinishing the driveway and sidewalk, new siding, exterior paint, replacing the garage door, and landscaping will help your home stand out from the competition. We have a whole other post full of ideas on how to increase your curb appeal, just click here to get started.
Whether you're planning to sell or are just ready to update your home, it's worth considering which updates are going to get the best return on your investment. These home renovations are just some of the ways to add value to your home. Contact our team of Ottawa real estate agents to discuss other ways to get your home ready for resale!