Six Great Ways to Celebrate Canada Day in the Nation's Capital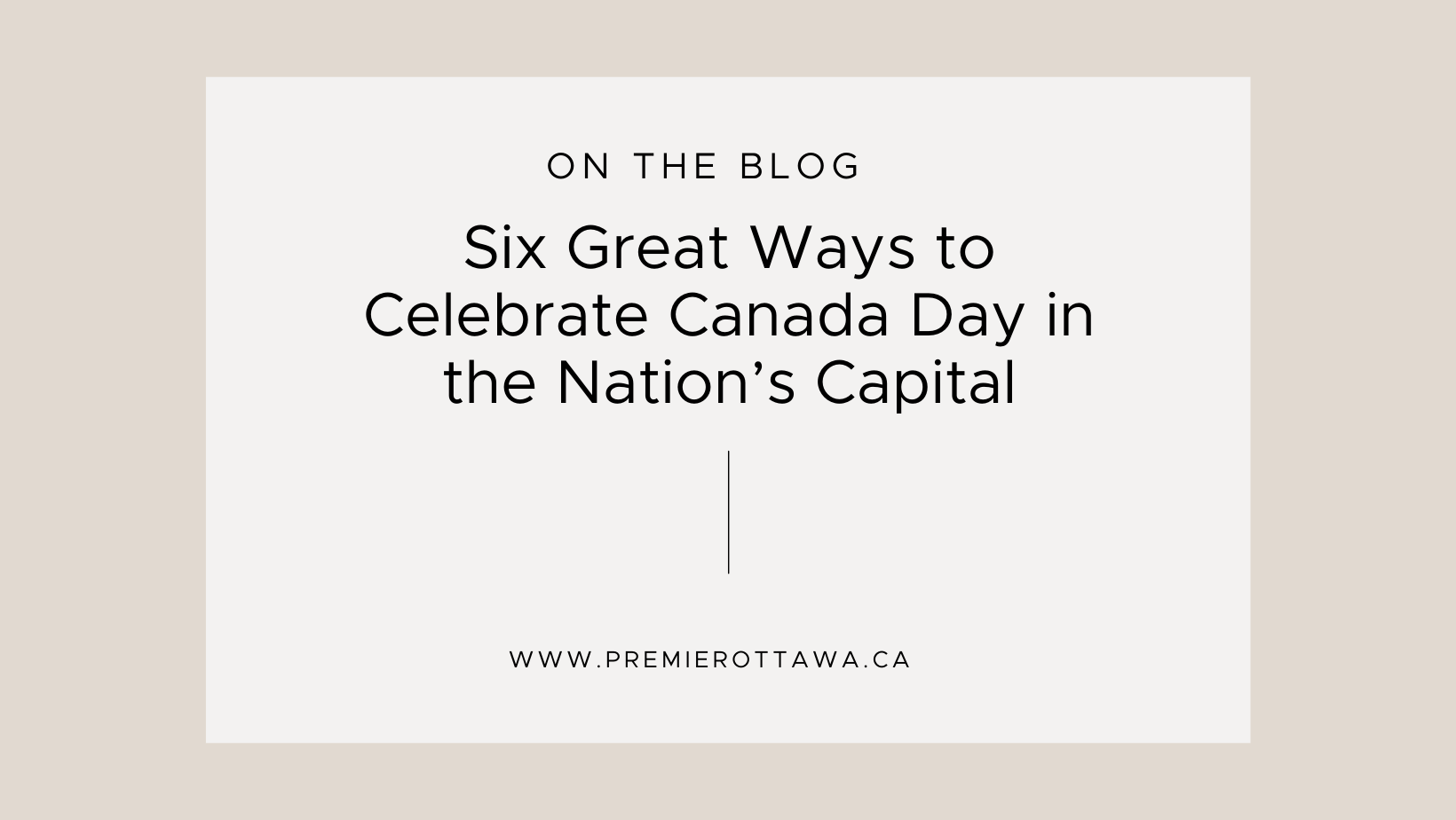 If you've ever spent Canada Day outside the Nation's Capital, you know there's nowhere better than Ottawa to celebrate our country's birthday! And after two years of not being able to celebrate in person, many of us are eager to get out and enjoy the holiday this year. If you're looking for fun ways to celebrate Canada's 155th birthday, look no further! We've rounded up some of the best options so you can make the most of Canada Day in Ottawa in 2022. 
The Official Party
Canada Day celebrations in Ottawa are normally held on Parliament Hill. But this year, the festivities are moving to Lebreton Flats due to construction and limited space on the hill. It may not be the same without the backdrop of our beautiful parliament buildings, but Canadian Heritage has put together a full line-up of Canadian talent that will be sure to please. 
The daytime ceremony starts at 11:30 am and will showcase a collection of Canadian artists including: Lisa LeBlanc, Sarahmée, Sebastian Gaskin, Boogat, Tenille Townes, DJ Shub, Josiane Comeau, Gurdeep Pandher, Kellie Loder, Riit and Chantal Kreviazuk.
The evening show will begin at 8:00 pm and will include the following artists: Charlotte Cardin, Salebarbes, Johnny Reid, Tenille Arts, Riit, Ariane Moffatt, Neon Dreams, Samian, Cindy Bédard, Gurdeep Pandher, Sarahmée, William Prince, Sebastian Gaskin and WALK OFF THE EARTH.
Following the evening show, fireworks will begin at 10:00 pm. Some of the best views will be available from LeBreton Flats Park, Zibi or the surrounding streets.
You can also see up-and-coming artists performing alongside BMX demonstrations, urban artwork displays and other activities at nearby Place de festivals Zibi throughout the day. For full details, visit the Canada Day website.
Explore Canadian Culture
Even though the festivities won't be held on Parliament Hill, that doesn't mean you can't take a trip downtown to appreciate some of Canada's culture. Ottawa is home to a number of heritage sites that tell stories of our Country's history. From the Parliament Buildings to the historic Rideau Canal to Rideau Hall there are plenty of places to visit to explore Canada's heritage. 
Celebrate Canada Day with the Kids
Celebrate Canada Day with the whole family with your choice of family-friendly Canada Day activities. Head down to Place des Festivals Zibi for some big fun at the giant games and giant bubble workshop. Or bring the kids to learn about "Farming Up Close and Personal" at Lebreton Flats Park. 
If you're looking for something a little closer to home, visit one of the many smaller celebrations in communities around the Nation's Capital. 
Canadian Heritage has put together a page full of Canadian-themed crafts and games that are both fun and educational. Check out the Canada Day Activity Kit here: https://www.canada.ca/en/canadian-heritage/campaigns/canada-day/activity-kit.html 
Celebrate Canada Day on the Water
There's no better place to be than on the water on a hot day (or night!) in July. Catch the fireworks and celebrate Canada's 155th birthday with new friends on a fun nighttime boat cruise. There are actually a number of different cruises to choose from in the Ottawa area. They vary in price, length and amenities, but all will give you a great view of the fireworks from the Ottawa River. Here are a few options to choose from: 
Ottawa River Queen – https://www.ottawaboatcruise.com/tour/firework-dinner-cruise
Capital Cruises – https://www.capitalcruises.ca/en/special-events.html
Ottawa Boat Parties – https://www.eventbrite.ca/e/canada-day-fireworks-boat-party-ottawa-2022-tickets-345130353177?aff=ebdssbdestsearch
Ottawa Yacht – https://www.ottawayacht.ca/tour/canada-day-fireworks/ 
Be a Canada Day Volunteer
Volunteers help make our annual Canada Day celebrations a success. If you'd like to be a part of the action and help fellow Canadians have a great day, why not offer your time? Volunteers are needed to help things run smoothly at all three of the official sites for Canada Day in Ottawa. To learn more or fill out an application, visit the Canada Day website. 
Watch from Home 
If you can't make it out to the festivities in person, you can still enjoy Ottawa's Canada Day celebrations from the comfort of your own home. Wherever you are in the country, you can catch both the daytime and evening ceremonies. Tune in online to Canadian Heritage's YouTube channel. You can also watch on the CBC News Network or Radio-Canada ICI RDI. 
However you plan to celebrate Canada Day in Ottawa, we hope you enjoy all that our city has to offer. Contact us today to get on our mailing list and get more great local content delivered right to your door.