Getting Around Ottawa – Transportation Options to Help you Navigate the City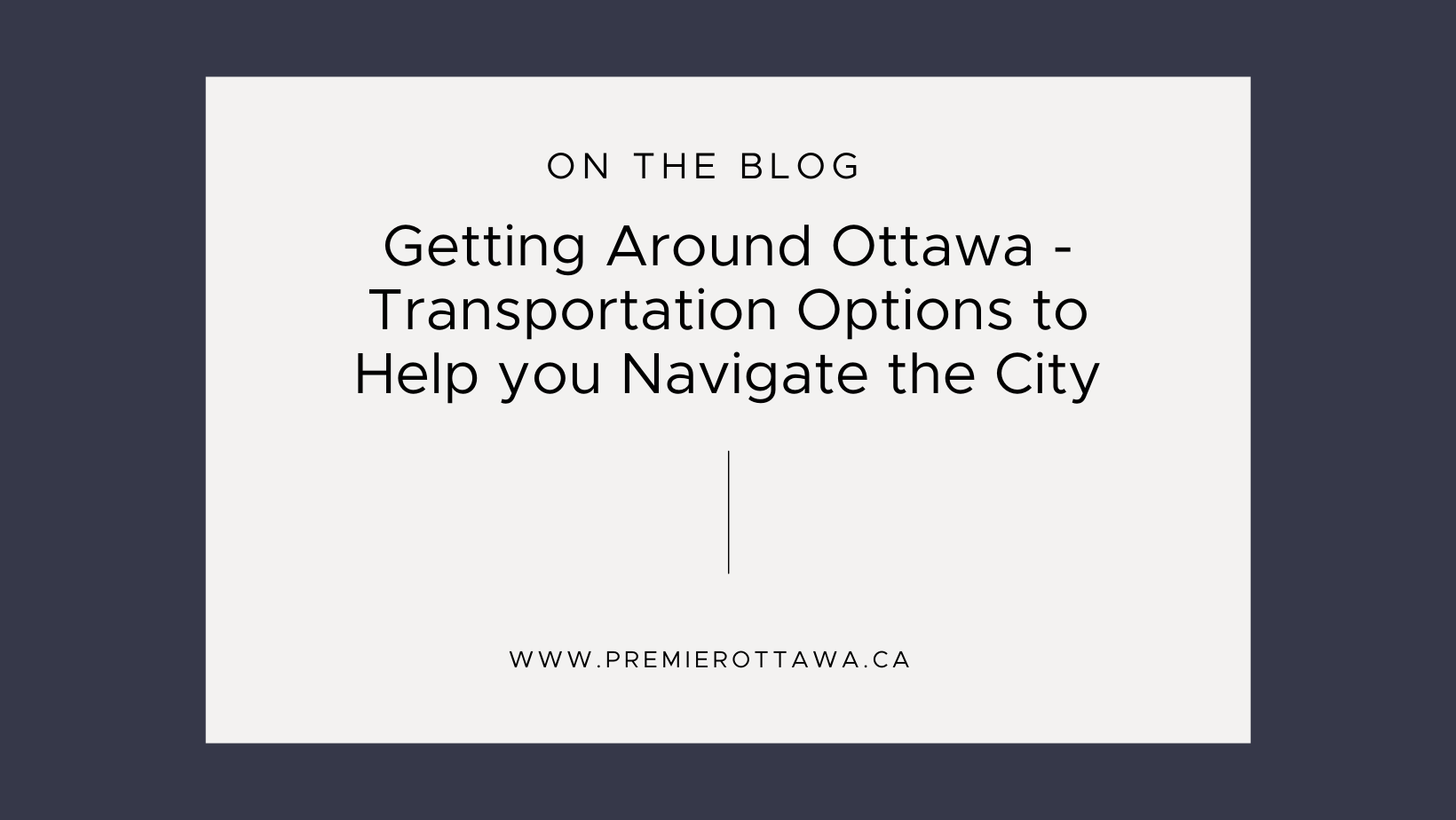 Whether you've lived in Ottawa all your life or are just moving to the city, you may not be aware of all the different transportation options available. From walking and biking to public transit and ride-sharing services, there are a lot of ways to get around our city. We've gathered all the necessary information to make it easy for you to plan your route no matter how you want to get there! Here's everything you need to know about getting around Ottawa.
Taking the Bus in Ottawa
Ottawa has a reliable bus system that covers most of the city and makes it fairly easy to get around without a car. The OC Transpo bus network provides all-day service throughout the city with peak-period service in rural areas. The 480 km2 service area extends as far as Munster Hamlet in the west, Cumberland in the east, and Manotick in the south. A number of bus routes also travel to downtown Gatineau, Quebec.
The transit network includes dedicated transit corridors which avoid traffic congestion, 47 transit stations, and 26 Park & Ride lots (most with free parking). Single ride tickets and day passes are available for purchase on the bus or at ticket machines. Reloadable smart cards (Presto cards) can be purchased and loaded online or at select vendors. Children under the age of 5 travel for free.
Use the OC Transpo Travel Planner to plan your trip:
https://www.octranspo.com/en/plan-your-trip/travel-planner/guide/
The Para Transpo service offers door-to-door pick-up and drop-off for persons with permanent or short-term disabilities who are unable to access other means of transit.
STO operates the bus system on the Quebec side of the Ottawa River. For more information, visit their website: http://www.sto.ca/
Getting Around Ottawa by Train
Ottawa also has a light rail system known as the O-Train. The light rail service has been in operation since 2001 and has two lines that run east/west and north/south. You can then transfer to a bus to travel throughout the city. The train is in operation daily from 6:30 am – 1 am (2 am on weekends). 
Line 1 – The O-Train Confederation Line runs east-west and covers a 12.5-kilometre stretch from Tunney's Pasture in the west to Blair in the east. There are 13 stations on the Confederation line and end-to-end travel time is less than 25 minutes.
Line 2 – The Trillium Line is an 8km stretch that runs north-south from Greenboro Station in the south to Bayview Station just west of downtown in the north. Note the Trillium Line is currently closed for construction which will extend the route to the Ottawa Airport in the South. Additional west and east extensions are also underway. 
A travel planner, maps and schedules can be found here:
https://www.octranspo.com/en/plan-your-trip/ 
Ottawa Taxi Services
Ottawa has 3 major Taxi companies that offer service 24/7 throughout the city. You can find taxis downtown at taxi stands in front of most hotels, many office buildings, and some tourist attractions. Outside of the downtown core your best bet is download an app, book online or call. Visit the website of the company of your choice for more information. 
Blue Line Taxi – http://www.bluelinetaxi.com/
Capital Taxi – https://capitaltaxi.com/
West Way Taxi – http://westwaytaxi.ca/ 
Ride Sharing in the Nation's Capital
Both Uber and Lyft operate in the Ottawa area and are popular alternatives to traditional Taxi services. Both of these options are relatively new in Ottawa and their service areas continue to grow. Currently Uber covers a larger urban area with service from Stittsville to Gloucester and parts of Gatineau. Lyft does not extend to the Quebec side, but it does offer service in rural areas such as Arnprior, Dunrobin and Munster.  To learn more about Uber and Lyft in Ottawa, download the app or visit their websites. 
Uber: https://www.uber.com/global/en/cities/ottawa/
Lyft: https://www.lyft.com/rider/cities/ottawa-on
Getting Around on Foot
Ottawa has an extensive network of cycling and walking paths that can take you almost anywhere in the city! The Capital Pathway includes over 200 kilometres of off-road, multi-use pathways, extending from Gatineau Park, through Ottawa–Gatineau and into the Greenbelt. It connects the Capital's parks, gardens, museums and attractions. The network runs through the city centre, suburbs, countryside and wooded areas. This impressive collection of trails makes it easy to get around Ottawa by foot or bicycle. 
View a map of Ottawa's walking and biking trails here: https://ncc-ccn.maps.arcgis.com/apps/View/index.html?appid=d69460c2d8df472db1a456183bc624fc
With so much ground to cover it's important that Ottawa offers excellent transportation options for everyone from Orleans to downtown to Kanata and beyond. Bookmark our helpful guide on getting around Ottawa so you always have the information on hand! If you'd like to know more about choosing the right neighbourhood in Ottawa, get in touch with one of our agents today.