Ottawa's Best Neighbourhoods: Britannia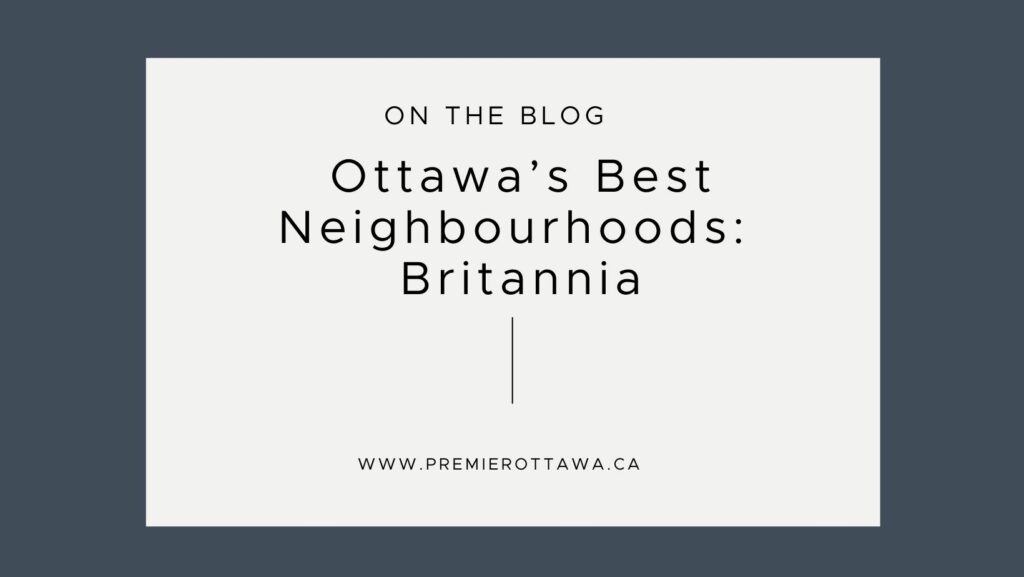 A charming residential neighbourhood within walking distance to the river, with nearby amenities and beautiful outdoor spaces may sound too good to be true. But you'll find all that and more in Britannia! With access to the Ottawa River, the city's network of bike paths and the SJAM Parkway, we think Britannia is one of Ottawa's best neighbourhoods.
A Great West End Location
Located in Ottawa's west end, Britannia is bound by the Ottawa River to the north, Richmond Road to the south, the Sir John A MacDonald Parkway to the east, and Boyce Avenue to the west. The area includes the smaller communities of Britannia Village, Britannia Woods, and
Lincoln Heights. Whether you prefer to commute by car, bike, or bus, Britannia offers easy access to main routes and is only 20 mins from downtown and just 15 mins from Kanata.
Ottawa's Best Neighbourhood by the Beach
If you dream of living within walking distance of some of the city's best outdoor recreation, you'll definitely find Britannia is one of Ottawa's best neighbourhoods! The area is home to beautiful Britannia beach which offers plenty to do aside from swimming at the sandy beach. There's also a snack bar, park with picnic tables and barbecue pits, play structures, beach volleyball, SUP rentals, and free parking.
The historic Britannia Yacht Club (est. 1887) offers amazing views of the Ottawa River in a beautiful park-like setting. Members can experience sailing, tennis, or pickleball, enjoy a delicious meal in the dining room and partake in monthly events.
Get Outdoors in Britannia
Although the Ottawa River access tends to be a highlight, there are so many other things to see and do in Britannia. The West Ottawa Tennis Center is one of Ottawa's premier tennis facilities with both indoor and outdoor courts. At Britannia Park you'll find a pair of ball diamonds, a basketball court, a soccer field, wading pool in the summer and outdoor rinks in the winter.
The beautiful Britannia Conservation Area is 79-hectare patch of forest and wetlands. Mud Lake is home to a wide variety of wildlife and plant life. The area is known for its birdwatching with 3.5 km of trails featuring hundreds of different species of birds. The Trans-Canada Trail also passes right through the neighbourhood, so you'll never run out of places to walk, run or cycle.
One of Ottawa's Historic Neighbourhoods
Britannia is one of Ottawa's oldest neighbourhoods and was originally a part of a large estate owned by Captain John LeBreton in 1818. LeBreton began selling off parts of the estate as real estate in the village area in 1828. Later in 1899, when the Ottawa Electric Railway Company built a streetcar line to Britannia, the area became a popular cottage and beach community. It remained primarily a summer destination until the 1950s when returning veterans began to settle in the area.
Amenities in Britannia
There are very few businesses in Britannia, which helps this quiet neighbourhood keep its historic charm. But everything you need is just minutes away. There are stores and restaurants on Richmond Road including the Lincoln Fields plaza. And the Carlingwood Shopping Centre is only a short drive or bus ride down Carling Ave.
Houses for Sale in Britannia
The majority of homes in this coveted community were built between 1960 and 1980, although some of the older homes are now being replaced with new builds. As a result, you'll find a mix of older cottages, modest bungalows and large, modern homes with spectacular views. The majority of homes in the area are single family homes, but there are some semi-detached and row homes. The area has no room for development which means it can be tough to find properties in the neighbourhood.
Despite gentrification, much of Britannia still has that charming cottage community feel that originally made it so popular. With rich history, quiet streets, beautiful parks and river access, it's easy to see why Britannia is one of Ottawa's best neighbourhoods. Homes don't stay on the market for long in this prime location. Contact us today to get set up with a custom search so you'll be the first to know when the next home in Britannia hits the market.