Thinking of Buying a Cottage? Here's What You Need to Know.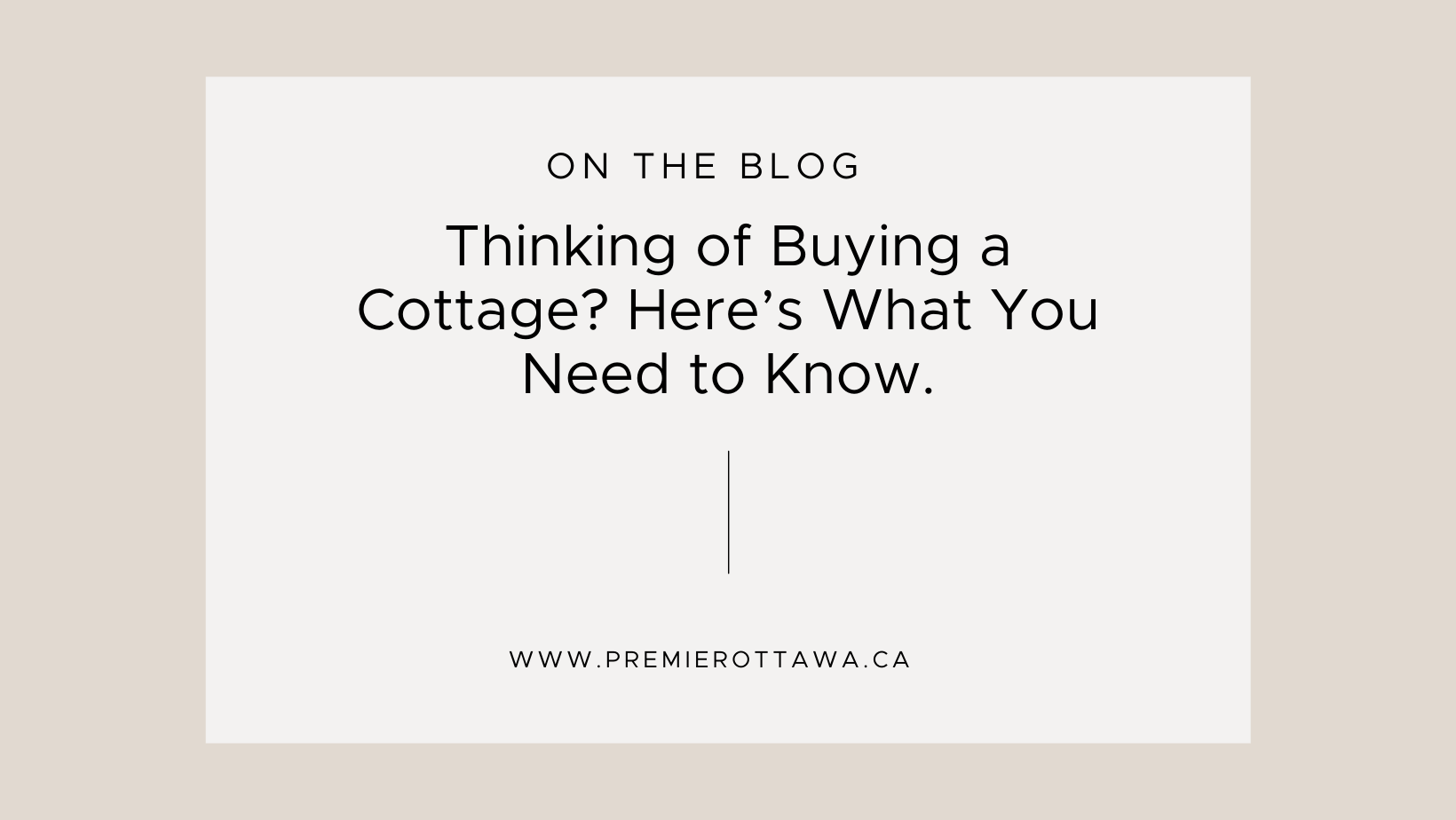 The lure of owning a cottage is hard to resist. Especially when you live in a city like Ottawa with so many beautiful lakes just a short drive away. But there's so much more to buying a cottage than picking a lake and enjoying the great view. Things you might not consider like road access, waterfront restrictions and water supply can vary greatly in rural areas. If you're thinking of buying a cottage, make sure you do your homework and are ready for these common challenges.
Can I Afford to Buy a Cottage? 
According to the RE/MAX 2021 Recreational Property Report, Canadians are flocking to the recreational property market like never before. But owning a second property is a big financial responsibility. A good guide for those considering purchasing a cottage is the 32% guideline. The total cost of the mortgage, property tax, insurance and utilities should be less than 32% of your household income. 
It's also important to consider the cost of maintaining a second property. Upkeep and repairs can add up quickly, especially if no one is there to catch damage when it happens. 
Insuring a Cottage 
Insuring a cottage isn't always as easy as insuring your main residence. Because of the risk associated with properties that sit empty part of the time, recreational property insurance is often issued on a named perils policy instead of a comprehensive policy. This means you can receive coverage for specific risks such as fire but may not be able to obtain coverage for other problems such as water damage or vandalism. 
Cottage Road Access
When looking at cottages in the spring and summer you might not even think about what it would be like to get there in bad weather. Often that remote spot away from the city can become completely inaccessible in the middle of winter. Be sure to confirm if there is year-round road access and how the roads are maintained. Will there be snow removal? Is there a maintenance fee? Make sure you have all the info before you buy. 
Buying a Waterfront Cottage 
The dream of owning a cottage usually involves water in some form. But not all waterfront properties are created equal. Do you want waterfront, water access or water views? Is a sandy beach a must or are you OK with jumping off a dock? Consider what type of waterfront you want before you start shopping to ensure you're focusing your efforts in the right place. 
Many areas have waterfront restrictions that regulate how close to the water you can build and what type of shoreline maintenance is acceptable. This could include things like cutting down trees or moving rocks. Always learn the restrictions before purchasing a waterfront property in case your dreams of turning a rocky shoreline into a beach are prohibited. 
Drinking-Water at the Cottage
Many rural properties don't have access to municipal water so it's important to understand where the drinking water comes from. Is there a well? Does the cottage use lake water for washing and bottled water for drinking? A property without a well may have a cistern or holding tank that requires filling. If the property does not have adequate drinking water be sure to check local regulations on septic systems near bodies of water to ensure you are able to add a well or septic system. 
Utilities at the Cottage
Basic conveniences you don't even think about in the city can be a challenge in rural locations. Depending on where the cottage is located, you may not have access to internet or cell service. Some really remote properties may not even have hydro available. Before you buy a cottage, verify that you can get the services you need. Especially if you plan to spend long amounts of time there or work remotely. 
Don't Forget the Amenities
The availability of amenities such as gas and groceries can have a big impact on how convenient life at the cottage is. Will you have to bring supplies in with you or can you get them nearby? How far away is the nearest grocery store? Where can you get gas for the boat or lawnmower? 
Municipal services can also vary in rural locations. Is there garbage pickup or do you have to go to a dump? Where is the nearest fire or police station in case of emergency? How far away is the closest hospital or vet service? 
Buying a cottage can result in years of happiness and great family memories. Provided you take the time to fully research the property and know what you're getting into. Our agents have the knowledge and experience to walk you through every step of the process and ensure that you get the right recreational property for your family. Contact us today to get started!