What to Do When You Get the Keys to Your New Home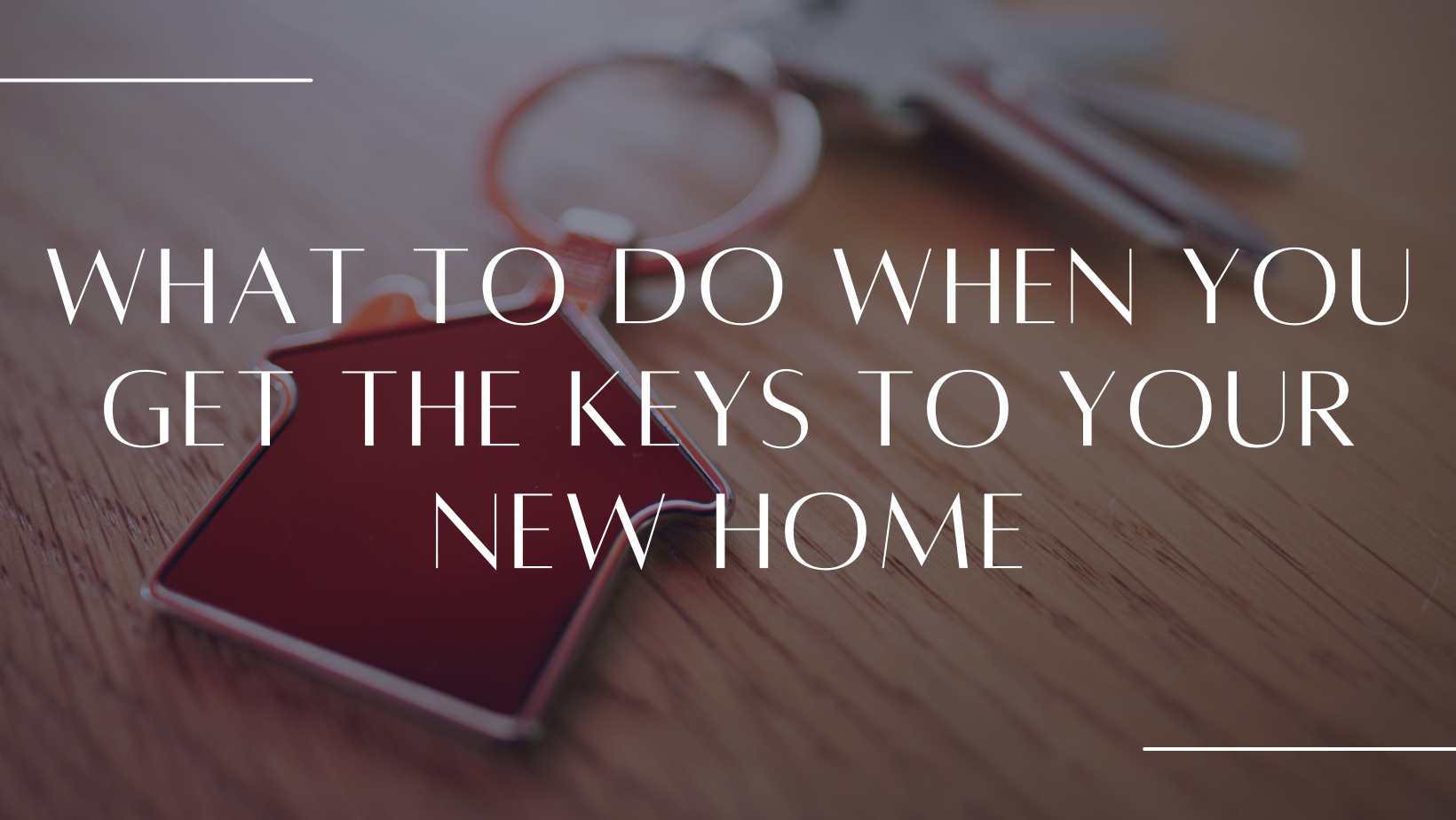 It probably felt like the day would never arrive, but closing day is finally here! It's both incredibly exciting and a little overwhelming. But with so much going on, it can be tough to keep track of all the little details. Here's a helpful checklist with our top ten tips for what to do when you get the keys to your new home. 
1. Inspect Your New Home
Before anything else happens, it's important to take the time to inspect your new home. Walk through the house and check for any damages that were not apparent during your previous viewings. Verify that everything that was included in the purchase agreement is there and in working order.  
Run the dishwasher, do a load of laundry, test the oven, and check the fridge and freezer. If you find any problems, be sure to document the problem and take photographs before your movers arrive to avoid any disputes. 
2. Check the Utilities
You should also take a few minutes to check that all your utilities are working. You don't want to spend the first night in your new home without water, electricity, or heating and cooling. 
3. Change Batteries and Filters
You can never be too careful when it comes to your family's safety. Go through your new home and put new batteries in all the smoke and Co2 detectors and change the filters on heating, cooling and water supply units. Then use your closing date as an annual reminder to change the batteries and filters each year. 
4. Locate Your Control Panels
Every home is a little different, so it's a good idea to locate the important features of your home and familiarize yourself with them. Find the main circuit breaker box and verify that all the fuses are labelled correctly. You should also locate the main water valve and know how to turn it off in case of an emergency.
5. Change the Locks
While this home is new to you, you can never know how many sets of keys the past owners have handed out. Any number of neighbours, friends and family members could have access to your home. Make it your own and protect your belongings by changing all exterior locks – including garages and outbuildings. And don't forget to change any codes on doors, gates or security systems. 
6. Get Your Bearings
Before you spend the first night in your new home, take the time to note where all the important amenities are. Nobody expects an emergency but knowing the location of the nearest hospital and vet clinic could be a lifesaver. You may also want to find the closest gas station, pharmacy, grocery store and coffee shop to ensure your first few days in your new home go smoothly. 
7. Prep for Movers
Moving always comes with a few surprises and the risk of possible damages. Help protect your new home by covering floors and high-traffic door frames before movers arrive. You should also note any low-hanging light fixtures and other obstacles that could pose a danger. Lastly, have supplies such as tape, a marker, utility knife and screwdriver on hand in case you need to make any on-the-go adjustments. 
8. Confirm Insurance
Your homeowner's insurance should be in place before your closing date, but once you're in your new home, you'll want to verify that all the information is correct. If there are updates that weren't originally listed or features such as a nearby fire hydrant that were missed, this can affect your coverage. You should also ensure your auto insurance is updated and accounts for any new distances you will be driving. 
9. Change Your Address
If you haven't already set up your change of address, you'll want to get that going as soon as possible. Any ID such as driver's license, health cards and passports will all need to be updated right away. You should also notify utilities, service providers, online accounts, and of course, friends and family of your new address. 
10. Don't Forget to Celebrate!
With so much to take care of you may have missed one very important step… celebrating your new home purchase! Starting your next chapter in a new home is such a wonderful time, make sure you take a few moments to enjoy it. 
These ten tips will ensure you'll know what to do when you get the keys to your new home. If you're looking for an Ottawa real estate agent to help you find your next home, contact us to connect with a Realtor® who knows and loves the National Capital area.