Ottawa's Best Neighbourhoods: Crystal Beach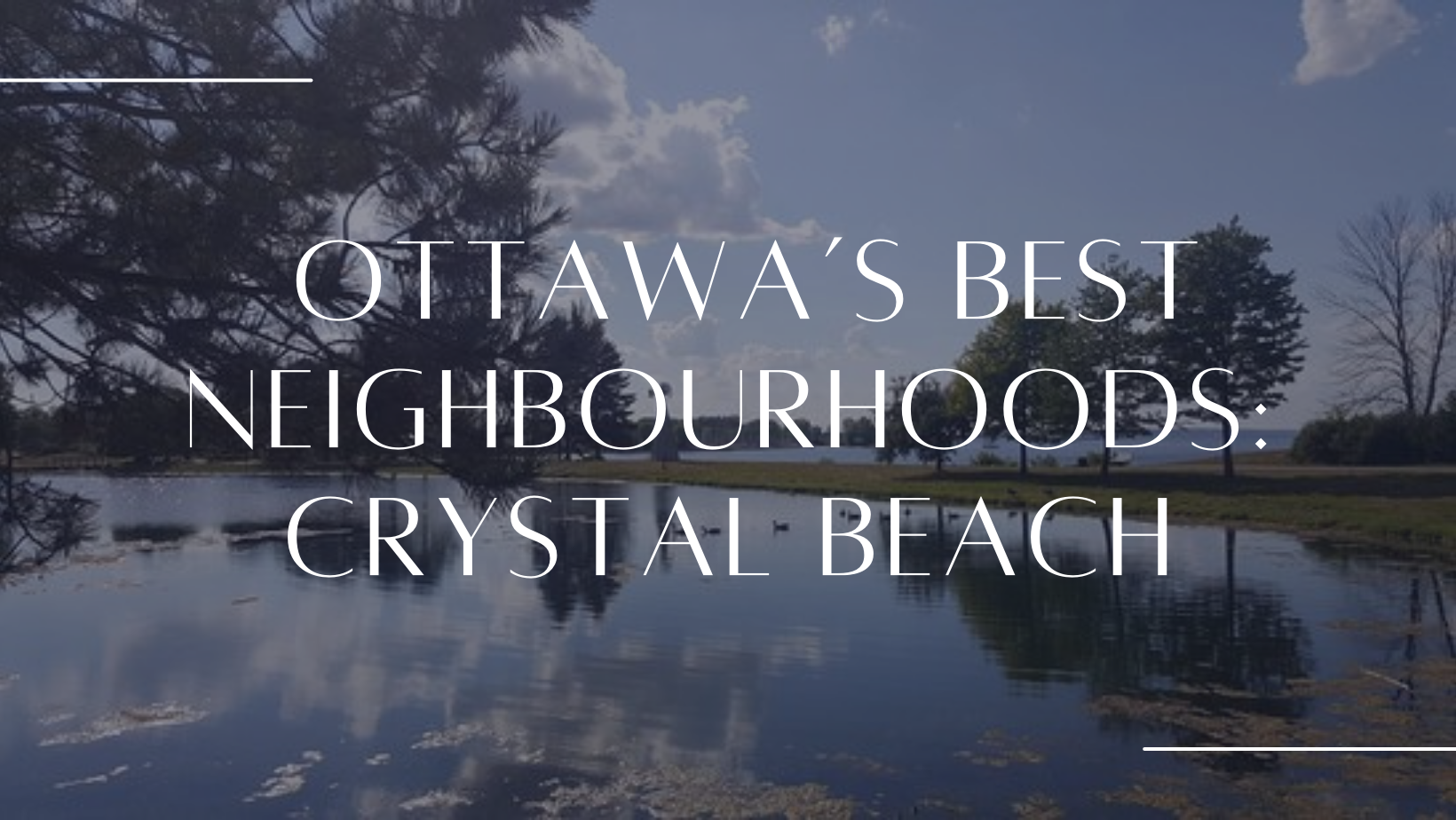 Do you dream of living near the river, but can't bear to leave the conveniences of the city? In Crystal Beach in Ottawa's west end, you can have the best of both worlds! Just minutes away from the Nepean Sailing Club, Andrew Haydon Park and the Ottawa River, Crystal Beach offers both beautiful homes and excellent outdoor recreation. This gorgeous residential community just might be one of Ottawa's best-kept secrets! Read on for some of the reasons why Crystal Beach is one of Ottawa's best neighbourhoods. 
Live Near the Water in Ottawa
There are so many things to love about Crystal Beach, but its proximity to the Ottawa River is definitely one of the highlights. Even from the furthest point in the neighbourhood, it's only a 5-minute drive or 20-minute walk to the river. Enjoy some of our city's most beautiful waterfront from one of the many paths along the water or relax at one of the riverside parks. 
Convenient West-End Location
Aside from being close to the water, Crystal Beach is also a commuter's dream. With nearby access to the 417, you can be in Ottawa's downtown core in less than 20 minutes or Kanata's business district in less than 15 minutes! And the Carling Campus which houses the National Defence Headquarters is right in your backyard. No matter where you work, you can get there quickly and easily from Crystal Beach. 
Great Recreation and Entertainment
There are few other areas in Ottawa that offer better recreation and entertainment facilities than Crystal Beach. Boating enthusiasts will enjoy the close proximity to the Nepean Sailing Club while cyclists will appreciate easy access to the Trans-Canada Trail. The Crystal Beach Tennis Club features three lit tennis courts and a pickleball court and the nearby Wesley Clover Parks is Ottawa's equestrian hub. All that and you're just minutes away from one of the city's best movie theaters and Bayshore Shopping Centre. 
Crystal Beach Parks
Crystal Beach has some of the best parks in the city! In the center of the community, Maki Park features sports fields in the summer and ice skating in the winter. Just across Carling Avenue, Dick Bell Park offers beautiful River views and excellent birdwatching. While nearby Andrew Haydon Park is one of Ottawa's favourite outdoor locations. It boasts many walking paths, a public park with ample lawns, a bandshell, a picnic pavilion, a playground, and even a waterfall! 
Family-Friendly Community
Crystal Beach enjoys a strong sense of community which is fostered by the Crystal Beach Lakeview Community Association (CBLCA). The association organizes and promotes community events and clubs that aim to improve the neighbourhood and build friendships among residents. The abundance of parks and recreation paired with award-winning neighbourhood design has made Crystal Beach an ideal place to raise a family. 
Crystal Beach Schools
The neighbourhood features several quality schools including Lakeview Public School which offers early French Immersion for grades JK to 6. The Crystal Bay Centre for Special Education serves students aged 4 to 21 with moderate to profound developmental disabilities. Students in the Crystal Beach area are also eligible to attend several nearby schools which include: 
Our Lady of Peace Catholic Elementary (JK to Grade 6)

Bells Corners Public School (JK to Grade 6)

St. Paul High School (Grades 7 to 12)

Bell High School (Grades 7 to 12) 

Collège catholique Franco-Ouest (Grades 7 to 12)
Homes for Sale in Crystal Beach
Established in the 1960s, this beautiful residential neighbourhood has become one of Ottawa's most desirable real-estate locations. The Crystal Beach area was primarily developed by Minto Developments and many of the homes in the neighbourhood are updated versions of the five original Minto models.  Comprised almost exclusively of single-family homes with large lots and mature trees, every home in the neighbourhood is a great find. 
Are you looking for a real estate agent in Ottawa? Get in touch with us today to help you find your dream home in this beautiful riverside community.