Ottawa's Best Neighbourhoods: Almonte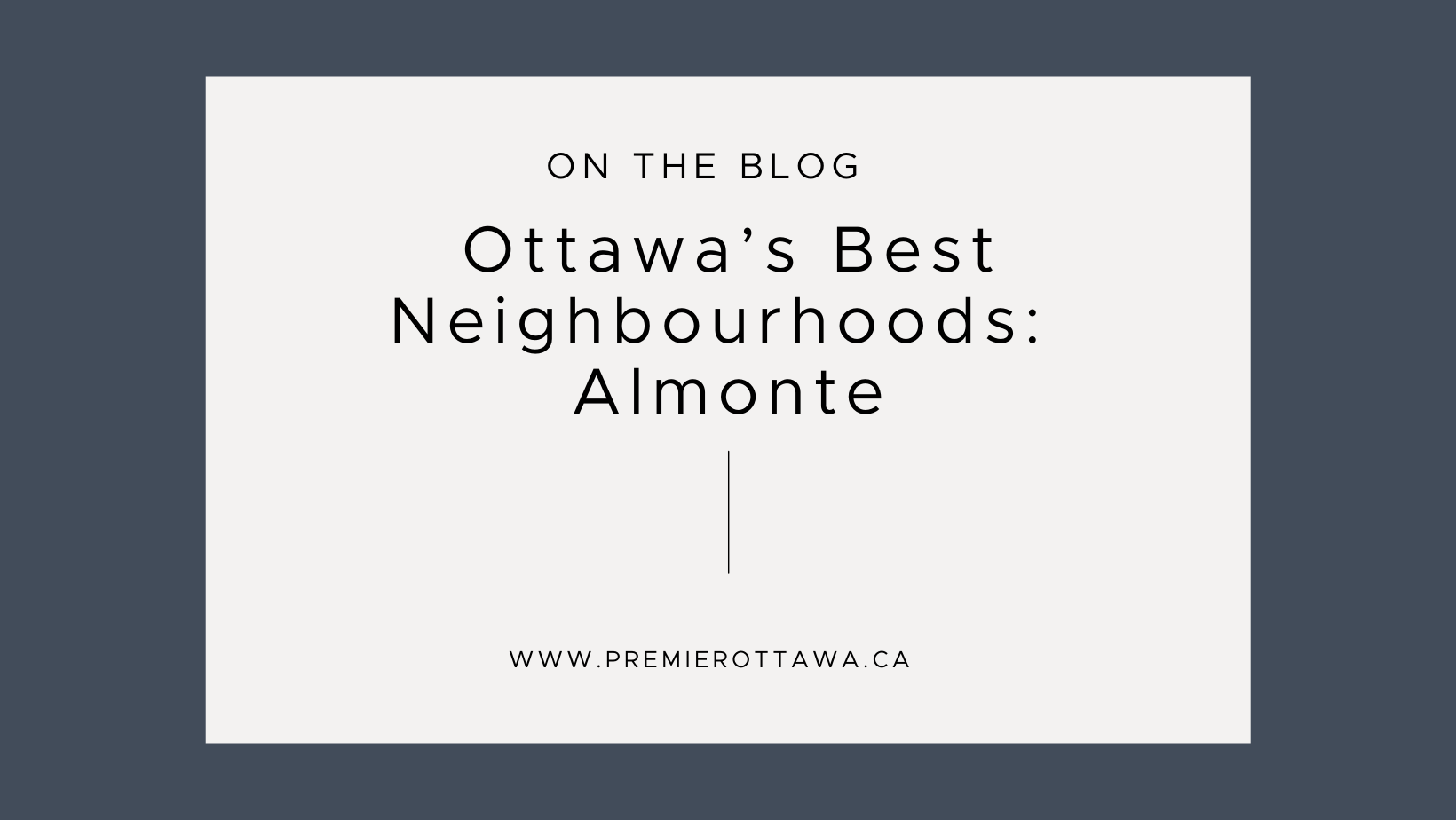 If you're looking for a charming small town that's just a short commute from the city, look no further than Almonte, Ontario. With boutique shopping, an excellent selection of restaurants, beautiful waterfront and 19th-century architecture that bears a striking resemblance to the set of a Christmas movie, Almonte has it all! Known as "The Friendly Town", it's easy to see why Almonte is on our list of Ottawa's best neighbourhoods. 
Small Town Living Just a Short Commute from Ottawa
Almonte, ON is a former mill town that sits on the shores of the Mississippi River in Lanark County. The town is just 45 minutes west of Ottawa and only a 25-minute drive from Kanata or Arnprior. With a population of just over 5,000, locals get to enjoy the small-town lifestyle with all the amenities of the city just a short drive away. 
Where to Eat in Almonte, Ontario 
For a small town, Almonte has an impressive selection of delicious food and drink options. Where else can you find a brewery, distillery, chocolatier and coffee roastery all within minutes of each other? From fine dining to tasty pub fare to traditional diner favourites, there's something to please everyone's palette in Almonte. 
Small Town with Great Amenities 
The butcher, the baker, and the ice cream maker… if you're looking to put good quality food on the table, Almonte has you covered. Dandelion Foods offers healthy fare from local sources and from spring to fall, the Almonte Farmer's Market is a favourite for locals and visitors alike. The Almonte Butcher Shop offers ethically raised local meats, wonderful prepared meals, delicious deli sandwiches and charcuterie platters for all occasions. And Baker Bob's is your source for mouth-watering bread, baked goods and gourmet foods. Then stop by The Daily Scoop Café for hard or soft ice cream, frozen yogurt, and a variety of ice-cream treats. 
The Holiday Movie Capital 
With its quiet streets and charming historic storefronts, Almonte has become a favourite set for holiday movies. In fact, over a dozen movies and counting have been filmed in the picturesque village. It's the quintessential small town that everyone pictures when they imagine rural North America
Shopping in Almonte, Ontario
While you won't find any big box stores in town, you will find a charming collection of locally owned shops that sell everything from antiques and collectibles to quilting supplies and everything in between! If you're looking for local arts & crafts, retro toys, custom or vintage clothes, kitchenware or even birding supplies, you can find it on historic Mill Street in Almonte.  
Almonte's Art & Culture Scene
Almonte is known as a creative community with a strong focus on the arts. The town is home to a number of artists, musicians, and textile artists. You can also find a wide variety of galleries, studios, exhibitions and workshops to attend. The Mississippi Valley Textile Museum shares the local history of the area and the Mill of Kintail is home to two community museums.
Schools in Almonte
Almonte is a great place to raise a family and has excellent schools for students of all ages. The town boasts three elementary schools, a high school and an adult education centre. The R. Tait McKenzie Public School and Naismith Memorial Public Schools serve students from JK to grade 6. The Holy Name of Mary Catholic School offers French immersion classes for students in grades Kindergarten to 8. Students move on to Almonte and District High School. The Almonte campus of the T.R. Leger School provides education and literacy classes for adults.
Houses for Sale in Almonte, ON
As a growing town, Almonte offers a nice mix of housing types. You can find empty lots, single family homes, townhomes and condos. Houses feature large lots and condos often offer water views. With the Bakers Quarry subdivision set to begin development in the near future, there are opportunities to purchase a new home in Almonte coming up. 
If you're looking for a rural location that's an easy commute to the city, consider buying a home in Almonte, ON. Contact us today to get set up with a custom search so you'll be the first to know when your dream home hits the market.