Up your Curb Appeal with a Visit to One of Ottawa's Plant Nurseries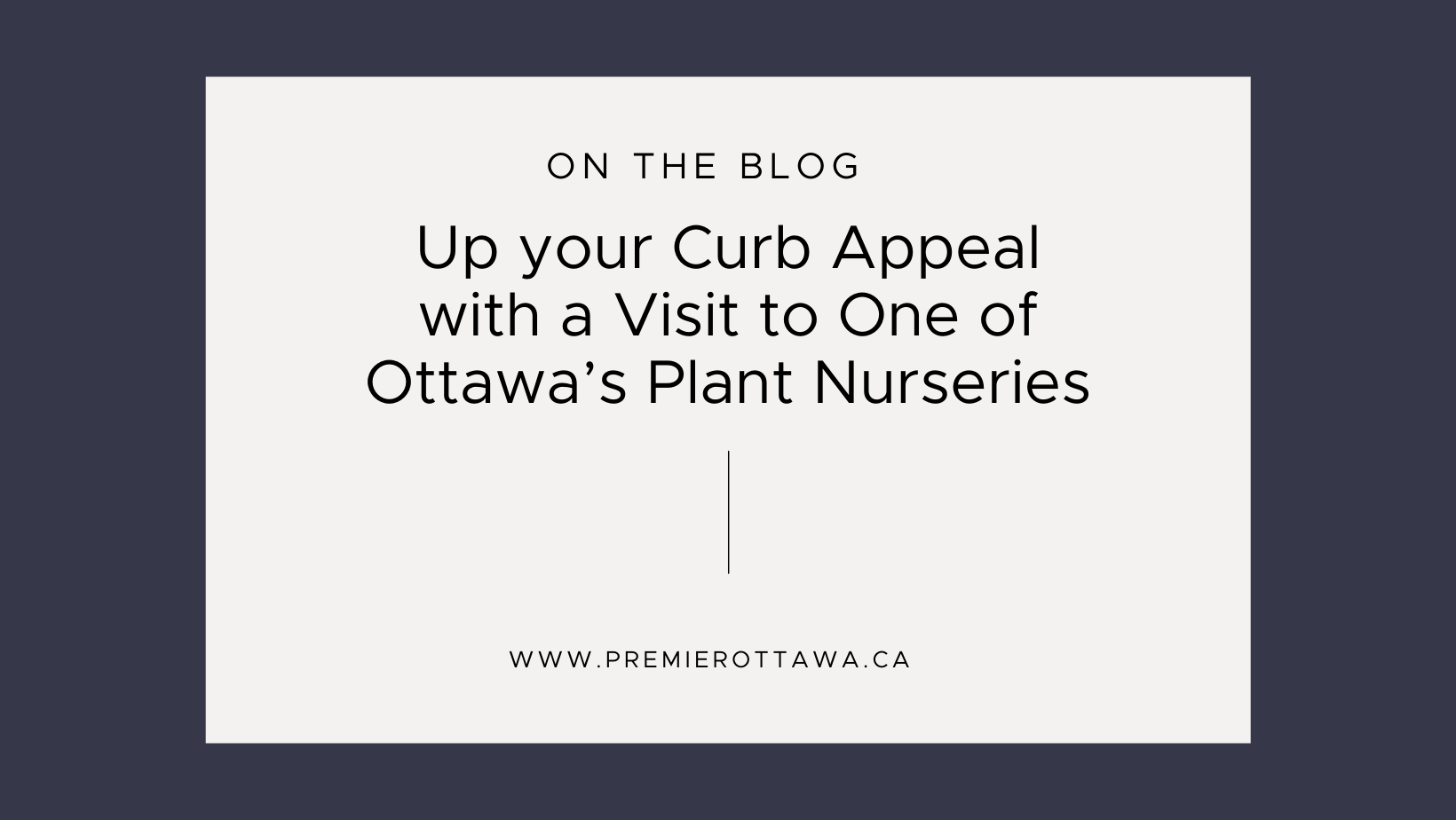 Spring is here and we're already seeing an increase in new properties hitting the market. With the added competition, it's more important than ever to have stellar curb appeal. Aside from regular maintenance, nothing makes the outside of your home stand out more than a beautiful garden. A trip to one of Ottawa's plant nurseries will take your garden to the next level and up your curb appeal at the same time. Whether you're selling your home or just love to exercise your green thumb, you'll find everything you need for your lawn and garden on our list of Ottawa's best plant nurseries.  
Peter Knippel Garden Centre –
4590 Bank Street, Ottawa
Peter Knippel Garden Centre is a family-run garden centre that has been in business since 1961.  With a wide selection of seeds and bulbs, annuals, perennials, roses, trees, shrubs and vines they have everything you need for your yard and garden. They also carry fruits and vegetables for your edible garden and all the necessary supplies. To complement their wide selection of plants, they also offer delivery and installation services as well as garden coaching. 
Green Thumb Garden Centre –
17 Tristan Court, Nepean
Green Thumb Garden Centre is a locally owned and operated retail garden centre in the west end of Ottawa. They carry a large selection of plants, compost, soils, mulch and fertilizer as well as garden tools, planters and decorations. They can also assist with garden design and will come to your location to offer recommendations. 
Ritchie Feed & Seed Inc. –
1390 Windmill Lane, Ottawa + 4 additional locations
Founded in 1927, Ritchie Feed & Seed is one of the area's oldest suppliers to the agricultural industry in the Ottawa Valley. Over the years they have become one of the largest independent lawn and garden businesses in Eastern Ontario. They now have locations in Carp, Richmond, Brockville and Winchester as well as the flagship location in Ottawa's east end. Although they are not a plant supplier, they have an extensive seed catalogue and offer unique supplies for birding, bee keeping, livestock and more. 
Bergeron Gardens –
2510 White Street, Navan
The Bergeron family has been operating Bergeron Gardens vegetable farm and for three generations. They design their own flower baskets and make beautiful wreaths and handcrafted holiday decorations. They offer a wide variety of hanging baskets, potted plants, seasonal vegetables and the city's best lettuce. You can even subscribe to weekly vegetable boxes filled with fresh seasonal produce each week! You can also visit the Bergeron stand at many of the local famer's markets throughout the summer.
Make it Green Garden Centre –
5200 Flewellyn Rd., Stittsville
Make it Green is an organic garden centre committed to nature-friendly approaches to gardening and lawn care. They have a full selection of houseplants, annuals, perennials, herbs, and veggies. They also carry over 100 varieties of rare and unusual evergreens and over 100 varieties of hard-to-find shrubs.  
Budd Gardens Perennials and Hostas –
2832 Innes Road, Blackburn Hamlet
Budd Gardens have been in operation for over 100 years and pride themselves on offering the finest selection of perennials and Hostas in the Ottawa area. You'll also find herbs, vegetables, berries, ornamental grasses and more in their nursery.
Beyond the House –
144 Craig Street, Russell
Beyond the House garden centre claims the title of prettiest garden centre in the Ottawa area. Their large greenhouses and outdoor display areas offer an excellent selection of unique trees, shrubs, annuals and perennials. There's also an indoor boutique that carries a wide variety of indoor and tropical plants, pots and giftware. They offer advice for new gardeners and encourage you to stop by and talk to a Garden Centre Associate. 
Aquatopia Water Garden Conservatory –
2710 March Road, Carp
Aquatopia Water Garden Conservatory is not your typical garden centre! It's a landscaping company that specializes in natural pools, ponds, water gardens and tropical interiors. They stock a huge selection of exotic tropical and water plants. But they are also a stunning wedding and event venue, a public conservatory and will soon offer water garden theater!
Paramount Nursery –
Online
Paramount Nursery offers you beautiful, quality plants and garden supplies, delivered right to your home. Whether you don't have a vehicle or prefer to spend your time in the garden rather than shopping for supplies, Paramount has everything you need for your garden. Shop online for quality plants, seed and fertilizer and rest easy with their satisfaction guarantee. 
Take a trip to one or all of these great Ottawa garden centres to fill your garden and up your curb appeal this spring and summer.