Top Five Things to Do to Get Your Home Ready to List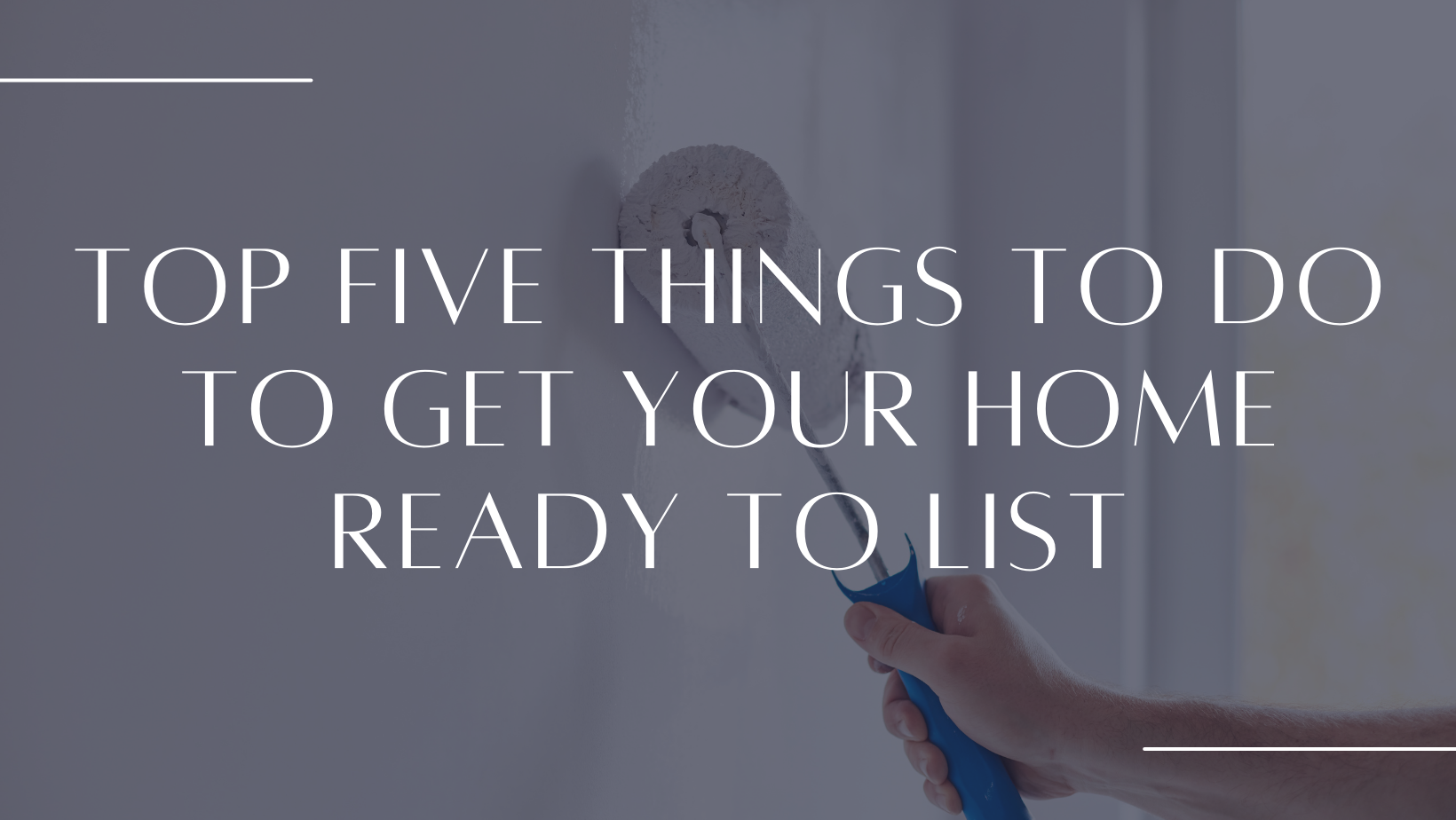 Are you thinking about selling your home? Moving to a new home can be both extremely exciting and a bit overwhelming. But like anything, a little preparation can go a long way. To take the pressure off and ensure your home sells as quickly as possible we've got five great tips to help you get your home ready to list. Each of these tasks can be done well in advance and don't cost a lot. And the best part is, even if you decide not to sell, you'll love how great your home looks with these easy updates! 
1. Create Killer Curb Appeal
The inside of your home may be what makes the sale, but it's the outside of your home that draws people in. Online photos and virtual tours are what potential buyers will see first. If they like what they see online, then most buyers will sneak a peek at the exterior of a home in person before making a commitment to view the property. 
That means the outside of your home has to look its best! Take the time to weed the gardens and plant extra flowers to fill in any gaps and add colour. Mow the lawn regularly and ensure all toys and outdoor tools are put away when not in use. Repair any cracks in the sidewalk and driveway and give the front and garage doors a fresh coat of paint. You can also clean the exterior of your home with a pressure washer to make it look like new again. 
2. Cut the Clutter 
If you're thinking about selling your home, the time to start decluttering is now! A home filled with clutter looks smaller, feels crowded, and appears to lack storage. Even though you'll be taking your clutter with you, all that stuff is still a big turn-off for potential buyers. And since you have to pack everything up anyway, why not get a head start? 
Ideally, you want your home to look like no one lives there when you're getting ready to list it. Clean surfaces and shelves with just a few items look better in pictures and won't distract from the main features of the home. To create the illusion of more space, remove any excess pieces of furniture, especially those that block walkways, doors, or windows. 
3. Make it Sparkle
When a buyer looks at a new home, they don't want to see signs of someone else's life. Handprints on the wall and dirty appliances make it harder for people to envision themselves living in your home. Take the time to scrub your home from top to bottom so it's gleaming for your photos and showings. Start with the obvious things like windows, floors and walls. But don't forget the less often cleaned areas like baseboards and light fixtures. 
4. Put on a Fresh Coat of Paint
There are few things that can transform a home as easily as a fresh coat of paint. Painting the walls will make your home look newer and brighter and appeal to a wider range of buyers. And studies show that the right paint colour can even sell your house for more. 
It's not just the walls that can benefit from a fresh coat of paint. Cabinets, doors and railings will all look more modern when updated with an on-trend paint colour. 
5. Make Repairs
You may be tempted to leave minor repairs and updates for the next homeowner. But easy repairs like broken lights and leaky faucets will raise red flags for potential buyers and could cost you the sale. Most buyers want a move-in ready home that doesn't require any work or additional expenses. The thought of having to make repairs can turn away potential buyers or encourage them to negotiate for a lower price. 
Bonus Tip – Find A Great Team!
Navigating the home selling process can be a daunting task. Our team of Ottawa real estate agents have the experience and knowledge to help you along every step of the way. From determining market value to putting you in touch with the right people to booking showings, we're here to ensure your home sells quickly and for the best price! Contact us today if you're getting ready to list your home.