What You Need to Know About Buying a Home in Quebec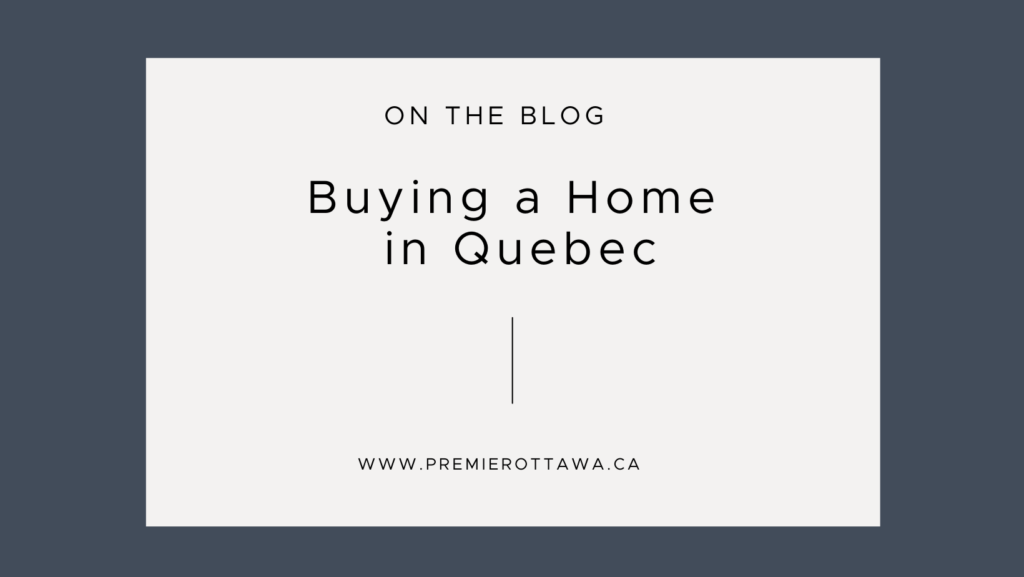 Living in the National Capital Region has many benefits. One of which is the easy access to our neighbour province and all that it has to offer. A short drive across one of Ottawa's three bridges will take you into a number of great neighbourhoods in Quebec. Even though it's just across the river, there are a few key differences you should be aware of if you're thinking about buying property in another province. Here's what you need to know about buying a home in Quebec.
Buying A Home in Quebec
With neighbourhoods like Gatineau, Aylmer, and Plateau just a short drive from downtown Ottawa, there are plenty of reasons to consider buying a home in Quebec. Although the recent spike in prices has affected the cost of homes everywhere, there are some areas in Quebec where homes are more affordable. You will have to save for a down payment as you would anywhere else in Canada, so be ready to put down at least 5% of the purchase price.
Searching for a Home in Quebec
While you can still use other methods to search for homes in Quebec, the most popular real estate search engine is centris.ca. Centris is a technology company that offers a wide range of tools tailored to the real estate industry in Quebec. Their search engine provides the largest number of homes for sale and rent and is the most visited real estate website in Quebec.
Promise to Purchase
In Ontario the buyer presents a formal offer to the seller of a home, in Quebec it is called a Promise to Purchase (promesse d'achat). The Promise to Purchase is an irrevocable contract that outlines the terms and conditions of the sale. The terms usually include the purchase price, method pf payment, obligations of both parties, list of inclusions/exclusions, and the occupancy date. Common conditions that may also be added to the offer include:
Successfully obtaining financing
A satisfactory home inspection
Sale of the buyer's property
Note: If you are buying a new home or have plans to build on a residential property, the Civil Code of Québec requires a Preliminary Contract. The Promise to Purchase is only used for resale transactions.
Legal Warranty
Most homes sold in Quebec are sold under legal warranty against latent defects. This means that the seller will verify they own the property and provide a full disclosure to the buyer on the condition of the property. If there is a major defect that the seller did not disclose to the buyer, the buyer can come back and ask for compensation for the necessary repairs.
Quebec Welcome Tax
Quebec charges a Welcome Tax that is similar to the Land Transfer Tax in Ontario. This tax requires the new owner of property to pay a percentage of the value of the property to the municipality. The property value is always the higher of either the sale price or the municipal assessment value. An invoice for the Welcome Tax usually arrives four to six weeks after you sign the contract of ownership and must be paid within 30 days. Welcome Tax values for most of Quebec are as follows:
5% on the first $ 50,000
0% on the portion of $ 50,001 to $ 250,000
5% on the amount exceeding $ 250,001 (excluding Montreal)
Quebec Income Tax
Because the provincial government subsidises a number of services that other provinces do not, income tax in Quebec is more expensive than Ontario. Daycare, secondary education, public transportation, insurance and utilities are all less expensive in Quebec, but as a result, tax rates are higher.
Utility Costs in Quebec
Québec has some of the lowest electricity rates in North America. The electricity is also largely produced by wind and water, so it's among the cleanest energy in the world. On the Ontario side, Hydro costs are generally twice as much as those in Quebec. We also pay more for water in Ottawa. Homes have water meters and pay for the water they use. In Quebec, unlimited water is included in your property taxes.
No matter which side of the border you chose to live on, our Realtors can help guide you through every step along the way. Contact us to start your search and we'll make sure you have everything you need to know about buying a home in Quebec.