Top Five Neighbourhoods with the Best Walk Score in Ottawa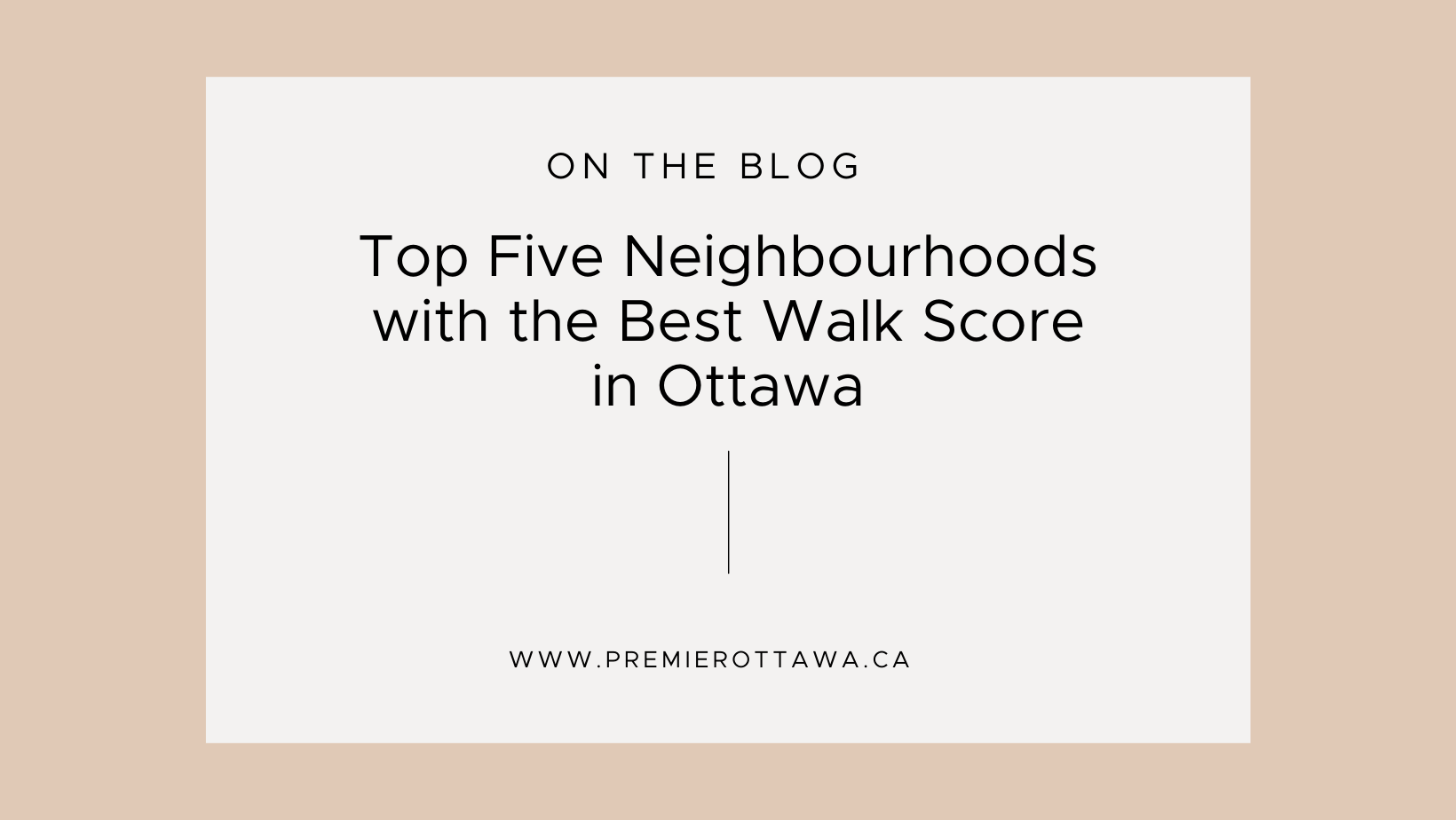 With the rising cost of gas and a push towards greener living, finding a home in a walkable neighbourhood is becoming a priority for more and more homebuyers. Luckily, when you live in a city like Ottawa, you have many beautiful areas that offer high walkability. We've got the scoop on five of neighbourhoods with Ottawa's best walk scores. 
What is a Walk Score?
Walk Score is a helpful tool that measures the walkability of any address, neighbourhood, or city using a standardized system. For each address, Walk Score awards points based on the distance to nearby amenities. Facilities within a 5-minute walk are given maximum points with points decreasing up to a 30-minute walk. 
Understanding Your Walk Score
Walk Score® Description
90–100 Walker's Paradise (Daily errands do not require a car.)
70–89 Very Walkable (Most errands can be accomplished on foot.)
50–69 Somewhat Walkable (Some errands can be accomplished on foot.)
25–49 Car-Dependent (Most errands require a car.)
0–24 Car-Dependent (Almost all errands require a car.)
Ottawa's Walk Score
As a city overall, Ottawa s the 8th most walkable city in Canada with a walk score of 45. The city also has a transit score of 50 and a bike score of 64. While the city may not be at the top of the walkability list, we have plenty of great neighbourhoods where you can leave your car at home. 
Centretown, Walk Score – 90
Centretown offers a mix of residential and commercial properties which makes it one of Ottawa's most walkable neighbourhoods. With Bank and Elgin Streets featuring mostly commercial businesses, there is little you can't find in the area even though much of the neighbourhood is still residential. There are a significant number of original single-family homes, but newer townhome developments and apartment buildings are also available in the area. 
Vanier, Walk Score – 80
With its proximity to the Rideau River and downtown, Vanier is one of Ottawa's up-and-coming neighbourhoods. Montreal Road and Beechwood Avenue offer a wide variety of amenities, retail shops, restaurants and pubs all within walking distance of a large residential neighbourhood. 
Westboro, Walk Score – 87
Along with some of Ottawa's trendiest shops, you'll also find everything you need for day-to-day life in Westboro. Groceries, pharmacies, restaurants, schools, parks and more are all within a few blocks of a great residential neighbourhood. Westboro residents can also find fashion boutiques, outdoor stores, galleries and entertainment without ever having to leave the neighbourhood. 
The Glebe, Walk Score – 88
The Glebe boasts classic homes on tree-lined streets in a central location that's within walking distance to almost everything. It's easy to see why this neighbourhood has such a high walk score when you look at the proximity to the Rideau Canal, Lansdowne Park and all shops and restaurants on Bank Street.  Plus, it's just a quick walk, bike or bus ride to downtown.
Hintonburg, Walk Score – 90
Located just west of downtown Ottawa, Hintonburg is a predominantly residential neighbourhood with a wide variety of commercial businesses on Wellington Street. It is also home to some of the city's most popular food spots including the Parkdale Market, SuzyQ Donuts, and the Art-Is-In Bakery.  There's also the Bayview Train and Bus Station as well as a connection to the Ottawa River bike path, meaning you can easily get anywhere in the city from Hintonburg. 
The further you get from the downtown core, the more likely you are to need a car to get around. But no matter what area you're looking in, our team of Ottawa Realtors® can help you find the perfect home that meets all your needs. Contact us today to start a custom search so you'll be the first to know when your dream home hits the market.